Checkout our new PayPal and Stripe payments gateways add-ons
We are proud to announce that we are releasing today a big update including two new add-ons to let you pay invoices online with PayPal and Stripe Gateways!
Let's pay invoices online!
As part of the free plugin, you will find a new payments tab in your WP Customer Area settings to manage your invoices payments.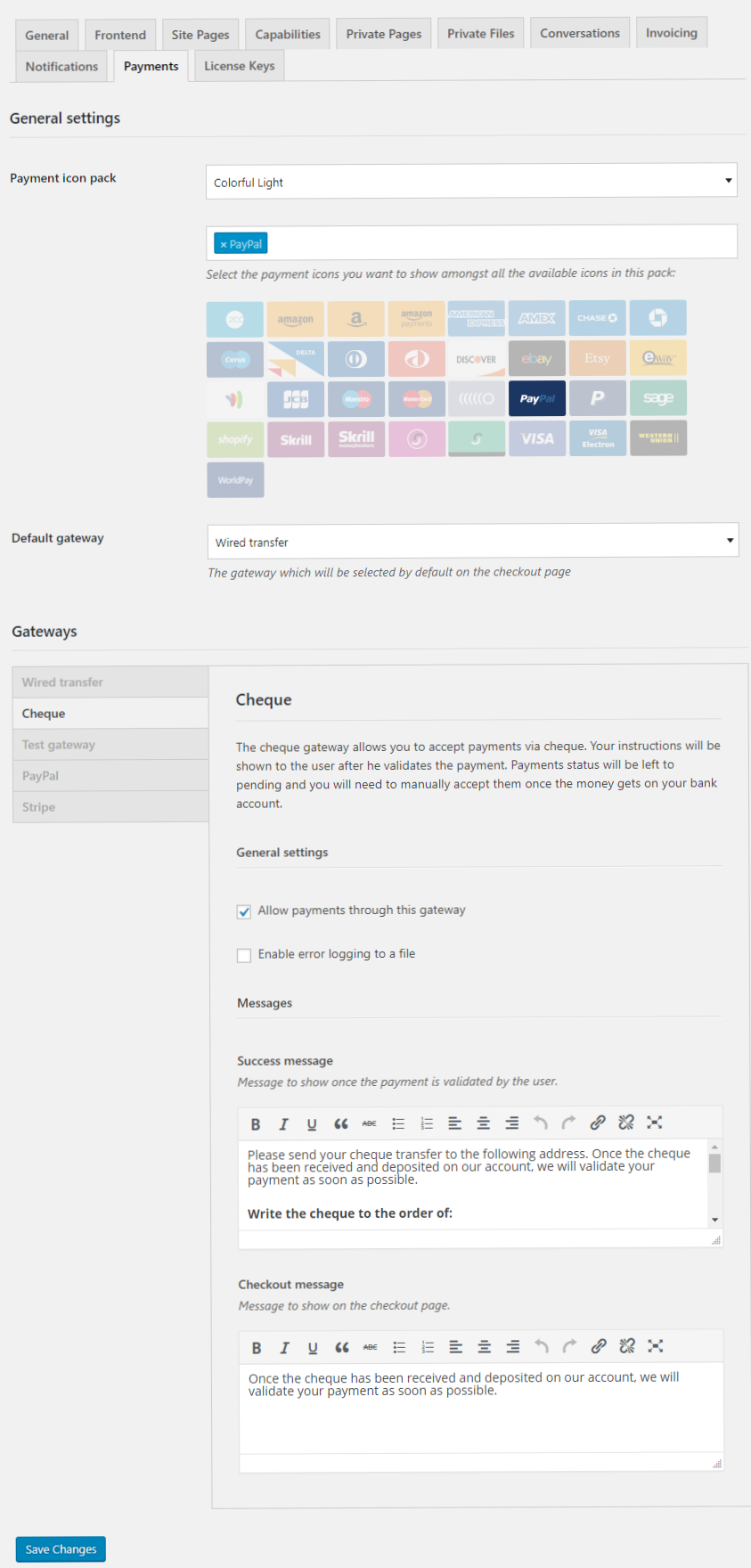 By default, you can accept manual payments (cheque, wired transfers), but we have 2 brand new gateways available to accept payments via PayPal accounts and from credit cards via Stripe.
Payments listing
You will also find a new page into Customer Area → Payments which separately list all the payments for each invoice.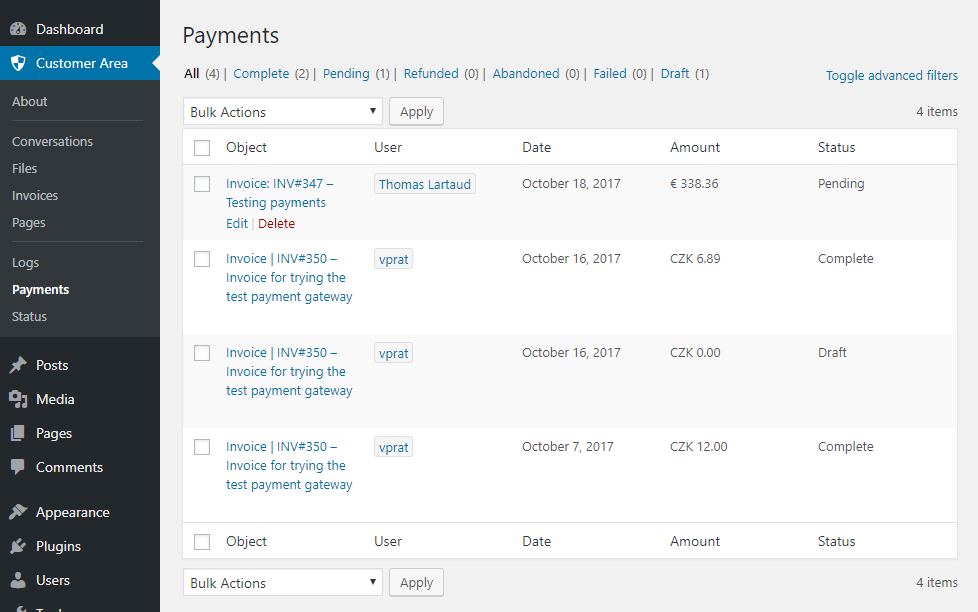 You can filter the list by payments status, or even by selecting a date range.

Payment details
Each payment has his own detail page resuming useful information that you can edit about the payer, selected gateway, paid object and payment data. There is even a "Notes" widget listing all the payment history actions.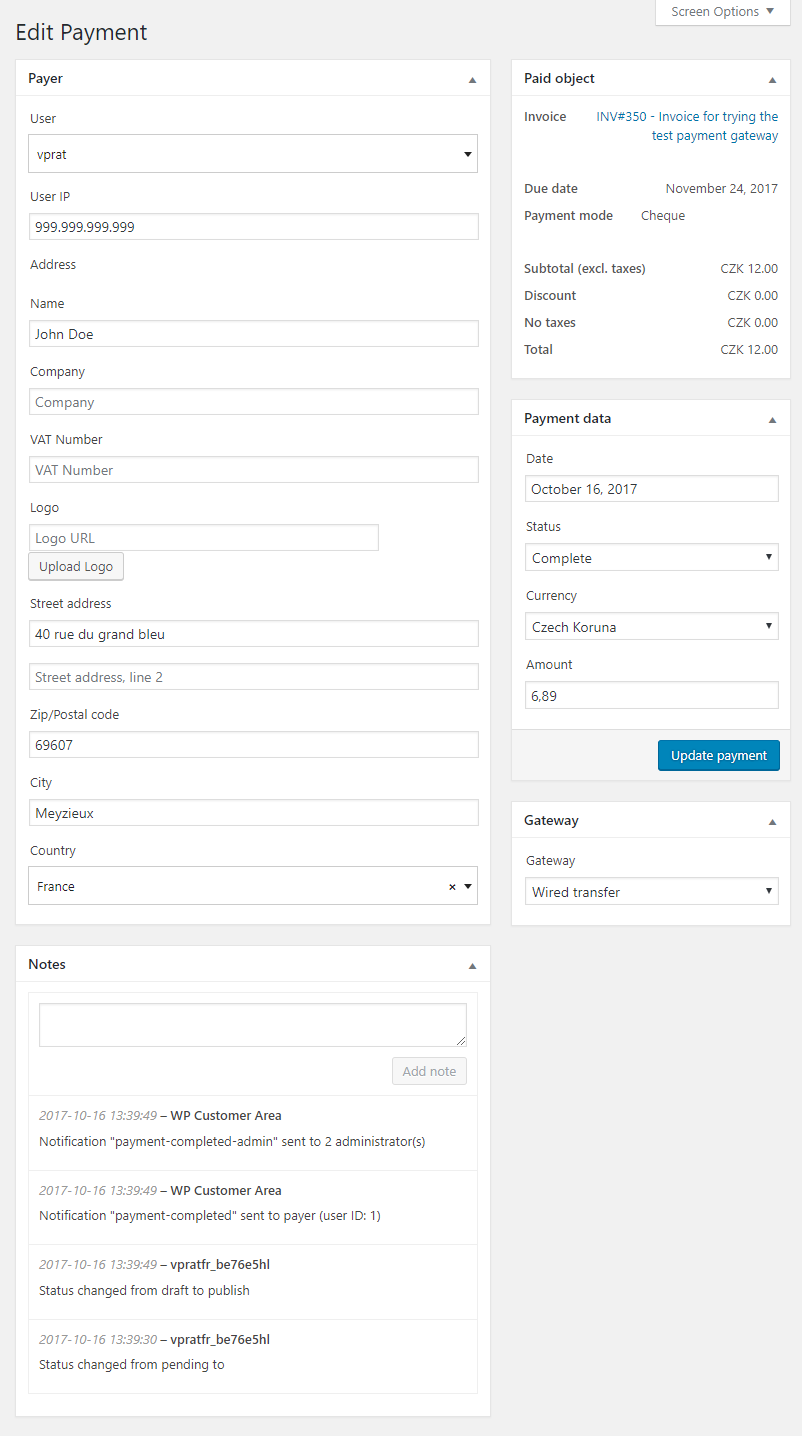 Payment notifications
If you own the notifications add-on, you will be able to edit the notifications messages in Settings → WP Customer Area → Notifications.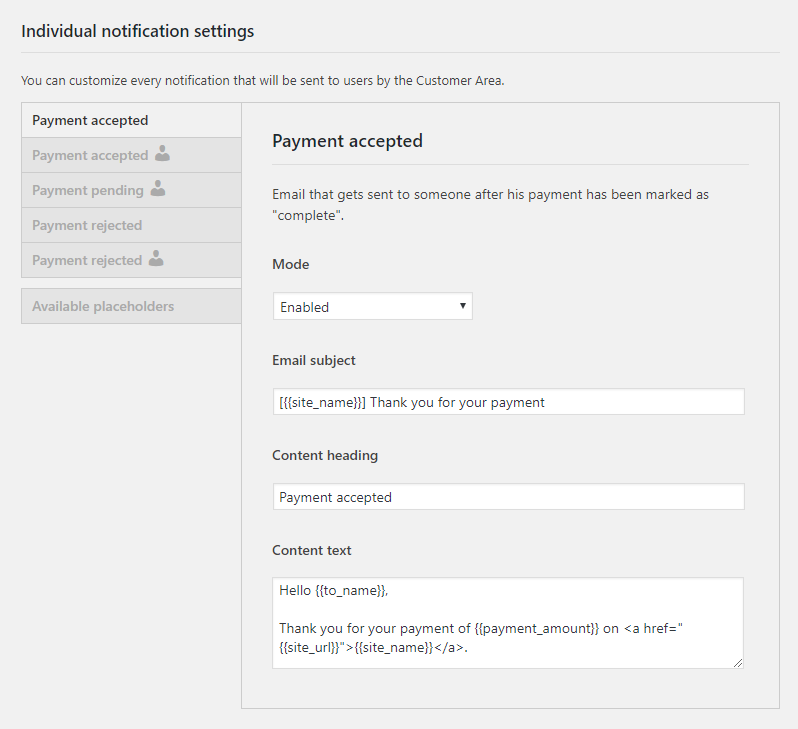 Invoices automatic statuses from payments
You will find in Settings → WP Customer Area → Invoices two fields allowing you to choose the status to set when the invoice gets fully paid, or when it gets refunded for instance.

Invoices payments history
Every single invoice on the admin area will now display a payment history table. Notice that you can also add payment manually from there.

Email logs
You can now view any email or notification that get sent in Customer Area → Logs.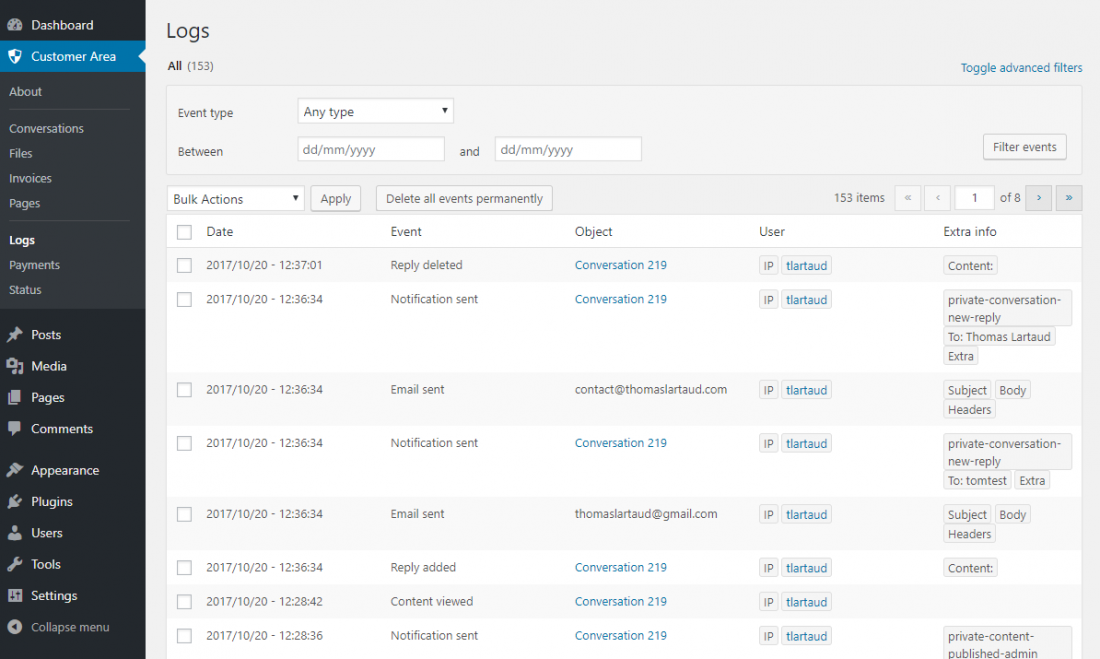 Close conversations
The conversation author can now decide to close the conversation to new replies.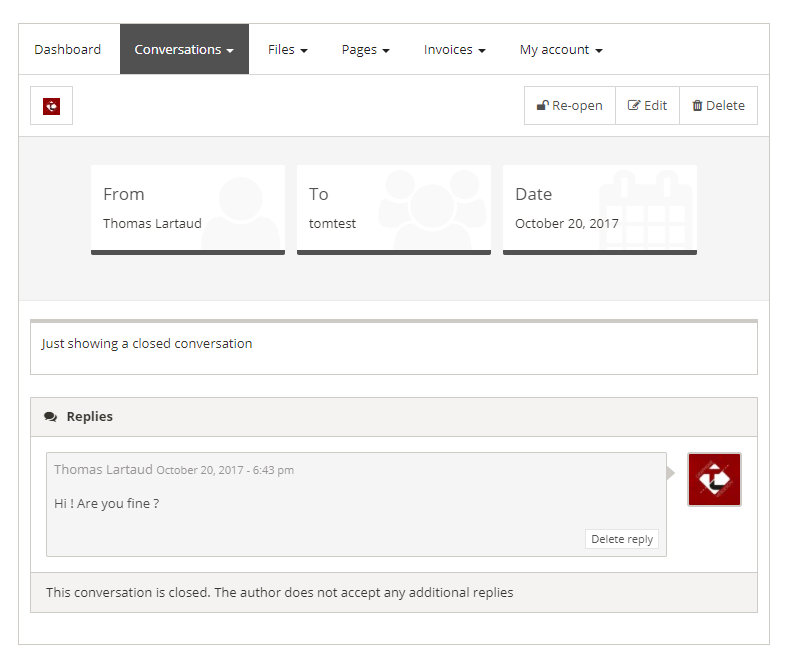 ACF 4.4.12.1 support
We updated supported version of ACF to 4.4.12.1 for our Advanced Custom Fields Integration add-on.
More than 15 fixes!
Additionally, we have also fixed several issues listed below. For more details, you can also see the changelog included in the plugin.
= 7.4.0 (2017/10/11) =
Fix: CSS for admin tabs in settings
Fix: website profile field not saved properly
Fix: hook to change default collection display mode was not working
Fix: warnings shown by a WP function when recreating the WP Customer Area menu after deleting/re-creating all pages
Fix: update the flush rewrite rules automatically after slug updates
Fix: badges and labels hover colors
Fix: wizard better responsive mode
Add-on changes
Add-ons – Fix: switch clearfix CSS class to cuar-clearfix to avoid conflicts
Design Extras – Tweak: recompile styles to match WP Customer Area 7.4.0
Invoicing – New: compatibility with the new online payment gateways
Invoicing – Fix: meta data was lost when trashing/restoring an invoice
Invoicing – Fix: the notice field was always logged as updated even when not touched
Notifications – New: Log notifications that get sent
Notifications – Fix: Allow by default sending notifications to current user. The filter 'cuar/notifications/allow-notification-to-self' can be used to change that.
Projects – Fix: do not execute project updated hook twice
Protect Post Types – Fix: typos about owner names in admin interface
Updated and new contents
Additionally, we have updated and created new contents to help you use and customize your private area. Do not miss it!
Hope you will enjoy new WP Customer Area 7.4.0!
We are very pleased to announce these new features and add-ons. To thank you, you lovely WP Customer Area user, for reading this post till the end, we offer you a coupon code: WPCA740. It will be available until 20th November and will give you a 10% off of all the bundles!
Remember that the free plugin available on WP.org, comes with free support. Do not hesitate to ask for assistance. If you'd like to, you can post a review about the plugin on WP.org.